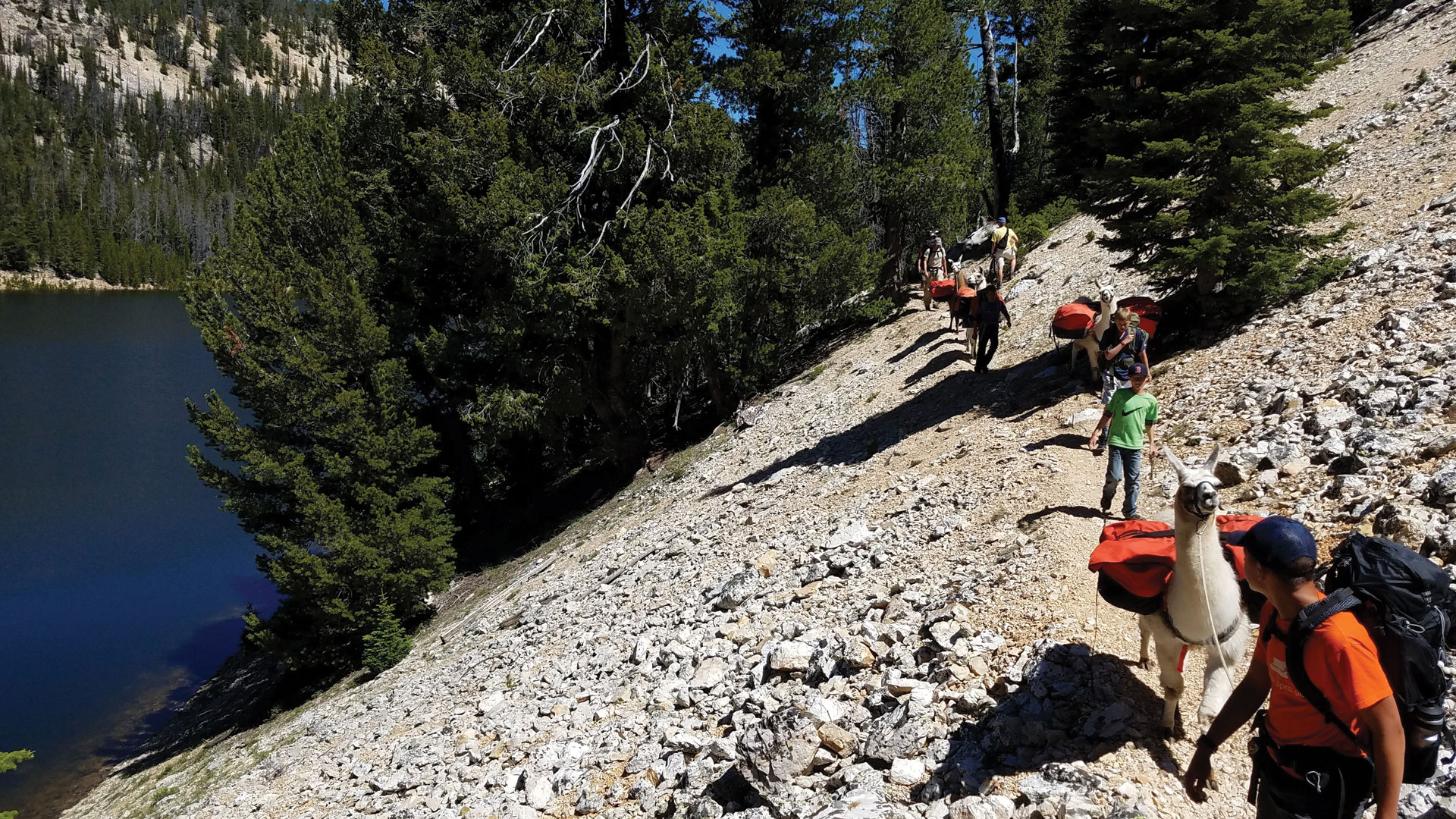 Bechler Meadow - Llama Trek
Hike Description
Not your typical Yellowstone trip, this 5-day adventure will undoubtedly be an unforgettable experience. Referred to as the Cascade Corner of Yellowstone National Park, the Bechler Meadows adventure takes you through one of the most waterfall-rich areas in the world. Located in the SW quadrant of Yellowstone Park, the Bechler River drainage is home to a dazzling number of waterfalls and cascades including the legendary Twister Falls, Three River Junction, the Cascades, and Treasure Island, as well as Iris and Colonnade Falls. There are so many gorgeous waterfalls coming off the plateaus of the Upper Yellowstone country that it would take a lifetime to visit them all. The many river crossings make hiking along the Bechler River the ultimate outdoor adventure.
On this trip, you will definitely get wet as we cross many streams; the water can be cold and the current swift, even in August, which adds to the thrill of this ultimate backcountry experience. With our trusted string of experienced pack llamas carrying your gear, your light load and experienced guides will make each crossing safer and more comfortable.
We'll soak in hot springs known as Mister Bubbles, a legendary soaking pool at a temperature of 110 degrees, minus the people. The Bechler River is not accessible by road, so only hardy hikers are found along its banks. This 37-mile point-to-point hike traces the bends, bows, and cascades of the Bechler River from its headwaters. The trails are good and not too difficult.
Along the lakes, rivers and streams, we may see beaver, muskrat, river otter, osprey, bald eagle, and waterfowl. In the meadows, we may find sandhill cranes, moose, and bears, and will certainly discover an array of wildflowers. Spending time in the beautiful region, one cannot help but respect the power of water in the Bechler River drainage. For anyone seeking some peaceful time in the mountains, in a landscape surprising for Yellowstone, this is a great option for a week-long (5 day) escape from civilization. This trip has everything you expect from an adventure in one of the wildest and most remote areas in North America.
Highlights
Visit a waterfall lover's paradise, discover more breathtaking waterfalls than just about anywhere in the world;
Visit the stunning Shoshone Geyser Basin - Yellowstone's largest backcountry geyser;
Soak in Mr. Bubbles Hot Spring - the most remote and nicest in the Park;
Experience a remote region of Yellowstone unreachable by car;
Escape the crowds and experience one of the wildest places in North America;
Enjoy easy to moderate trails that follow rivers, lead to lakes, waterfalls, and traverse mile-long meadows;
Discover habitats, valleys and views rare in the Yellowstone area;
Fish world-class waters teeming with native cutthroat trout;
Indulge in succulent wild raspberries and delicious hearty meals.
Hike Information
Bechler Meadows - Llama Trek
Type: Multi-day Llama Trek Duration: 5 day Distance: 36.75 mi/59.14 km Difficulty: Level 2 Solitude: Level 3 Location: Old Faithful, Yellowstone National Park Price Per Person: $1,975 Season: July 30 - August 3 (custom dates available) Reservation Type: Pre-booking only All trips require a two person minimum. If hiking alone, contact us and we will direct you to a group. Yellowstone trips provided by Access Wild.
Elevation Gain/Loss: 3051 Feet
Quality of Trails: Good trails, we may encounter some dead fall and other small obstacles
Physical Requirements: Frequent exercise and good health km
Duration of Trip: 5 day option
Distance of Hike: 36.74 mi/59 km
Daily Hiking Distance: 3-10.5 miles
Backpack Weight: 10-20 pounds
Most Elevation Lost: 230 feet
Most Elevation Gain: 1588 feet
Additional: We'll be traveling off trails at time due to some obstacles.
What's Included
Industry leading guide that is medically trained, energetic, knowledgeable and friendly
Well trained llama companions to join us on our adventure
First class meals (breakfast, lunch, dinner) and organic trail snacks
Trekking poles to hike with (if desired)
Use of technical backpack
Industry leading tents, sleeping bags and sleeping pad
Bear spray, and bear hanging gear
Emergency equipment and first aid kit including a satellite device
Our effort to fulfill our mission statement to each guest to make the trip informational, exciting, informative and memorable. This is your trip, we will do our best to make it special.
Water filters and purification tablets
What's Not Included
Personal items, rain gear, and clothes
Bug spray, sunscreen, toiletries
Headlamp, Water bottle
Guide gratuity (industry recommendation is 15-20% of trip cost)
Meals
You can expect the highest quality. Expect high-quality meals on our trips. Since llamas do the carrying, we can bring fresh and quality foods. We provide a diversity of foods with the necessary nutrition for sustained energy output including an assortment of proteins, carbohydrates, and fat. Meals are made from staples that travel well in the backcountry - rice, pastas, lentils, beans, couscous, oatmeal, granola, etc. Meals are also supplemented with trail foods such as crackers, cheese, granola, energy bars, fresh and/or dried fruit, and electrolyte powder. Fresh fruits and vegetables are available for snacks and meals; a snack selection (protein bars, trail mix, candy bars, etc.) is provided at the beginning of each day.
Please be sure to let us know of any dietary needs. We accommodate vegan, vegetarian, kosher and non-gluten diets and will make adjustments for food allergies. Special dietary requests may require an additional fee or other arrangements. Important note: It's critical that you specify dietary needs with registration - it's too late once we are at the trailhead.
Gear We Provide
We provide all group gear which includes the following:
Industry leading backpacks
Kelty Or Sierra Design sleeping bags
Big Agnus sleeping pads
Kelty or Leki trekking poles
Mountain Safety Research cooking stoves
GSI Outdoors cookware
Bear spray canisters and food-hanging gear
Company-issued first-aid kit
Satellite device
What Gear To Bring
Water bottles or bladder, 2 liters total capacity
A lightweight, high quality stuff sac for your clothes and belongings to fit in while in the llama panniers
Lightweight, packable camp pillow.
Contact lenses and glasses if you wear contact lenses please also bring a pair of glasses - your contacts are likely to become dirty and may be difficult to clean
Sunglasses, sunscreen, lip balm
Bug repellent, preferably a product containing at least 25% "DEET" (some people are sensitive to this product)
Toiletries, and a small washcloth in stuff sack (bandana can serve as a washcloth)
Headlamp, spare batteries (preferably an L.E.D. type that works with AA or AAA batteries)
Camera, spare batteries (optional)
Notebook or paperback book, (optional)
Knee braces, if needed
Prescription medicine, please inform your trip leader of any medications you are taking
Vitamins, (optional)
Fly fishing gear, if you want to fish
Money, for tipping your trip leader (optional but appreciated, generally 15-20% of your trip cost based upon the quality of your experience)
What Clothes To Bring
Sturdy Hiking boots, mid weight, lug-soled, above the ankle, waterproof and ideally well broken in. Important note: Buy your boots 1/2 size to 1 size larger than your street shoes to allow for feet swelling and thicker socks
Lightweight tennis shoes or Crocs®, for camp
Hiking socks, one pair for every two days of your trip, plus an extra pair to sleep in. Recommended brands include Bridgedale®, Smartwool®, or similar padded socks (wearing thin liner socks under your hiking socks is highly recommended). No cotton socks!!
Gaiters
Sunhat or baseball cap and bandana
Where do we meet
We will meet you at the Old Faithful parking lot in Yellowstone National Park in Wyoming
Your guide will be there with the llamas waiting for you at a predetermined time.
If you pre-booked in advance your trip your guide will reach out to one week prior to your arrival to confirm your trip and go over any questions you may have. They will also give you a weather update and verify and food allergies you may have. Your guide will request that you meet at 6:00 pm the evening before your trip to go over the trip details and itinerary. If you have any questions or need help with travel resources please just let us know.
Day 1
Hiking Distance: 7.32 miles
Elevation Gain: 984 feet
Day one is easy with a gentle incline over the day. From the trailhead at Old Faithful, we'll take the meandering Howard Eaton Trail through a lodgepole forest to Shoshone Lake Trail near Lone Star Geyser, one of the largest geysers in the park with a 45-foot eruption of scalding water every 3 hours. From there, we hike along the Firehole River crossing via a sturdy bridge, and climb up to Grants Pass (8,000 ft.) topping the Continental Divide. We'll camp at Shoshone Meadows near the remote and spectacular Shoshone Geyser Basin - home to the highest concentration of geysers in the world at Shoshone Lake (one of the largest wilderness lakes in in the lower 48).
Day 2
Hiking Distance: 9.64 miles
Elevation Gain: 1588 feet
On day two, we'll move south along Bechler River Trail climbing to our highest point at 8,500 ft before dropping down into the headwaters of Bechler River formed by the confluence of three rivers. Before we settle in for the night near Three Rivers Patrol Cabin, we'll visit the hot spring Mr. Bubbles for an afternoon soak. It's likely we'll have this beguiling 20-foot diameter, waist deep, bubbling pool all to ourselves. Campsite elevation?
Day 3
Hiking Distance: 2.54 miles
Elevation Gain: 230 feet
Day 3 is a layover day. Between soaking in hot springs, exploring local waterfalls like Albright Falls and the headwaters of Bechler River, casting a dry-fly, or just marveling at the fact that we are in some of the remotest area in North America, we're sure you'll find plenty of pleasure and adventure.
Day 4
Hiking Distance: 6.7 miles
Elevation Fain: 151 feet
Time to reach for your water shoes. Knee-deep stream crossings are on today's menu as we make our way along Bechler River into Bechler Canyon. The river widens as we head south and stream crossings become deeper from ankle-deep near its headwaters to knee deep fording the full-fledged river. The trail passes a number of prominent features, including Iris and Colonnade Falls before entering the northern edge of Bechler Meadows where the canyon and larger plateau give way to meadows. Here, resistant rock of the plateau meet highly erodible soils of the Bechler region. Our camp is below Colonnade Falls.
Day 5
Hiking Distance: 10.55 miles
Elevation Gain: 128 feet
Today, we hike through miles of meadows. Abundant water yields vibrant aspen stands, lush willows, and marshy meadows replacing the typical lodgepole and sage savannah common in Yellowstone. Wild raspberries tempt us for much of our hike. With a little luck, we'll see the spectacular Grand Tetons on the southeast horizon. As the landscape opens, the trail flattens, and we make good time on our last long, but easy day to the trailhead at the Bechler Ranger Station - a historic outpost from the days when the U.S. Army was in charge of the park. Here we meet our shuttle back to the starting point.
Please Note: We always do everything in our power to follow the set itinerary, however it can change occasionally based on temporary park restrictions, campsite availability, weather, road closures, guest ability/injury, and natural events like fires and flooding.