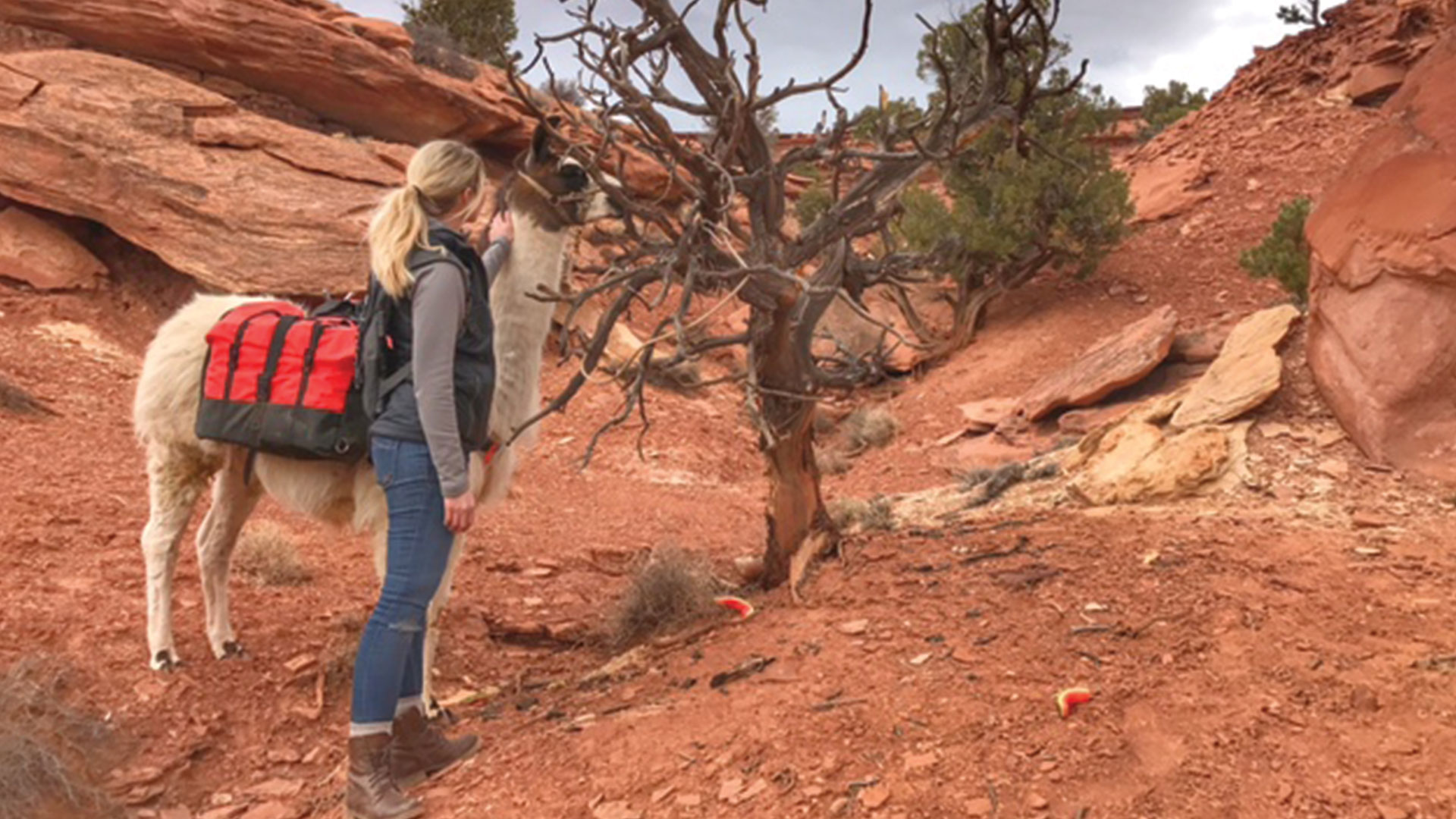 Best of Utah - Llama Trek
Hike Description
Have you ever heard of the saying "THE BEST OF BOTH WORLDS" this is one of those rare opportunities. We will be hiking the "BEST OF UTAH", this means hiking Boulder Mountain to the Twin Lakes day one and then hiking the best of Capitol Reef National Park day two. The icing on this adventure is that you get to stay in a cozy bed at the Capitol Reef Resort vs tent camping.
Day 1- You get to hike the waterpocket fold portion of Capitol Reef National Park and explore the giant mesas that look over the park on your first day. We will provide lunch and dinner for you and our trusty llama buddies will come along on our journey through the red desert landscape. After a great day of adventuring together we will drop you off at the Capitol Reef Resort for a hot shower and nice bed to call home for the night.
Day 2- Is just as special as day one. We will meet you at the Capitol Reef Resort early on day two and drive 35 minutes to Boulder Mountain where we will begin our journey to the Twin Lakes that are seated just below the Boulder Rim. The trek to the lake is full of wildflowers, grassy meadows, pine forest canopies and abundant wildlife. We will enjoy a hearty lunch on the shores of the lake. Feel free to bring your fishing or swimming gear as there is ample time to enjoy a backcountry lake. We will make a loop hike after lunch on our final trek back to our origin. The vistas on our way back are stunning so make sure to bring your camera along. We will then drive back to Capitol Reef Resort where you will get the chance to spend the night relaxing and reminiscing about your llama adventure.
Things worth Noting: Our guides will show you the three rock strata that are most prominent in this area—the brown, red, crumbly Moenkopi formation, the gray and red multicolor Chinle formation, and Windgate Sandstone. The Moenkopi and Chinle formations occurred during the Triassic Period (250 to 200 million years ago) and the Windgate Sandstone occurred during the Jurassic Period (200 to 145 million years ago).
The Moenkopi formation is capped by the cliffs of the cream colored Shinarump member of the Chinle formation, which slows the erosion of the brittle Moenkopi. Interestingly, gypsum veins run through the upper Moenkopi and petrified wood can be found in the gray-red clay of the Chinle formation. It's quite amazing being able to hike through the different rock strata with a close-up, personal experience. It's also quite difficult to comprehend walking through the Triassic and Jurassic Periods in less than five miles and 600 feet in elevation gain. This is a trip that will blow your hair back and knock your socks off!
Highlights
Discover fossils as we hike in and out of many ancient washes
Partake in our top-rated backcountry cuisine
Enjoy first rate interpretation of the flora and fauna from our experienced guides
Hike off trail to visit scenic overlooks
Adventure with us all day and at night stay in a cozy bed at the Capitol Reef Resort
Soak up rejuvenation scenery and solitude
Enjoy some time at a fresh water lake full of trout
Hike Information
Best of Utah - Llama Trek
Type: Overnight Llama Trek Duration: 2 Days Distance: 8-20 mi/12-32 km Difficulty: Level 3 (Moderate) Solitude: Level 4 Location: Torrey, UT. Price Per Person: $700 Season: June 10 - October 31 Reservation Type: Pre-booking only All trips require a two person minimum. If hiking alone, contact us and we will direct you to a group.
Elevation Gain/Loss: 250-750 Feet
Quality of Trails: Good trails
Physical Requirements: Frequent exercise and good health km
Duration: 2 Days
Ideal Start Time: 8:00 AM
Backpack Weight: 5-15 pounds
Daily Hiking Distance: 4-6.5 miles
Most Elevation Lost: 750 feet
Most Elevation Gain: 750 feet
Additional: We'll be traveling off trails at time. This is so that we can see some of the trip highlights
What's Included
Industry leading guide that is medically trained, energetic, knowledgeable and friendly
Well trained llama companions to join us on our adventure
First class meals (breakfast, lunch, dinner) and organic trail snacks
Trekking poles to hike with (if desired)
Use of technical backpack
Industry leading tents, sleeping bags and sleeping pad
Bear spray, and bear hanging gear
Emergency equipment and first aid kit including a satellite device
Our effort to fulfill our mission statement to each guest to make the trip informational, exciting, informative and memorable. This is your trip, we will do our best to make it special.
Water filters and purification tablets
What's Not Included
Personal items, rain gear, and clothes
Bug spray, sunscreen, toiletries
Headlamp, Water bottle
Guide gratuity (industry recommendation is 15-20% of trip cost)
Meals
You can expect the highest quality. The remarkable thing about a pack assisted trip is that allows for a diverse variety of fresh and quality foods that will keep you feeling energized and satisfied during your entire excursion. Meals will contain an assortment of proteins, carbohydrates, and fats. Many fresh fruits and veggies will be available for snacks and be used during meals. A selection of snacks (protein bars, trail mix, candy bars, etc.) will be provided for your choosing at the beginning of each day to be eaten at your leisure.
If you have specific dietary needs be sure to let us know as we will accommodate vegan, vegetarian, kosher, non-gluten, pescatarian and other specific diets. Special dietary request may require an additional fee.
On this trip we will provide one dinner, gourmet snacks, and a hearty breakfast.
Gear We Provide
We provide all group gear which includes the following:
Industry leading backpacks
Kelty Or Sierra Design sleeping bags
Big Agnus sleeping pads
Kelty or Leki trekking poles
Mountain Safety Research cooking stoves
GSI Outdoors cookware
Bear spray canisters and food-hanging gear
Company-issued first-aid kit
Satellite device
What Gear To Bring
Water bottles or bladder, 2 liters total capacity
A lightweight, high quality stuff sac for your clothes and belongings to fit in while in the llama panniers
Lightweight, packable camp pillow.
Contact lenses and glasses if you wear contact lenses please also bring a pair of glasses - your contacts are likely to become dirty and may be difficult to clean
Sunglasses, sunscreen, lip balm
Bug repellent, preferably a product containing at least 25% "DEET" (some people are sensitive to this product)
Toiletries, and a small washcloth in stuff sack (bandana can serve as a washcloth)
Headlamp, spare batteries (preferably an L.E.D. type that works with AA or AAA batteries)
Camera, spare batteries (optional)
Notebook or paperback book, (optional)
Knee braces, if needed
Prescription medicine, please inform your trip leader of any medications you are taking
Vitamins, (optional)
Fly fishing gear, if you want to fish
Money, for tipping your trip leader (optional but appreciated, generally 15-20% of your trip cost based upon the quality of your experience)
What Clothes To Bring
Sturdy Hiking boots, mid weight, lug-soled, above the ankle, waterproof and ideally well broken in. Important note: Buy your boots 1/2 size to 1 size larger than your street shoes to allow for feet swelling and thicker socks
Lightweight tennis shoes or Crocs®, for camp
Hiking socks, one pair for every two days of your trip, plus an extra pair to sleep in. Recommended brands include Bridgedale®, Smartwool®, or similar padded socks (wearing thin liner socks under your hiking socks is highly recommended). No cotton socks!!
Gaiters
Sunhat or baseball cap and bandana
Mosquito head net
Warm hat and gloves, sherpa style hat and light-to-mid weight fleece or wool gloves
Long underwear, one pair of wicking tops and bottoms that are light-to midweight, example materials include capilene, merino wool, polypropylene, etc.
T-shirt or nylon travel shirt
Warm top, mid-weight shirt, sweater or pullover, also wicking material such as merino wool, fleece or polypropylene
Fleece jacket or insulated coat, warm, lightweight and packable fleece jacket or coat insulated with a synthetic material
Nylon pants and shorts, or zip-offs
Bathing suit
Fleece pants (late June, late August and September trips only)
Rainproof jacket and pants - Waterproof/breathable jacket and pants such as Gore-Tex® or coated nylon - with the pants look for side leg zippers or a style that will allow you to remove them without removing your boots
Where do we meet
We will meet you in front of the Capitol Reef Resort Lobby.
2600 E Highway
Torrey, UT 84775
Resort Phone Number: 435-425-3761
Your guide will be there with the llamas waiting for you at a predetermined time.
If you pre-booked in advance your trip your guide will reach out to one week prior to your arrival to confirm your trip and go over any questions you may have. They will also give you a weather update and verify and food allergies you may have. Your guide will request that you meet at 6:00 pm the evening before your trip to go over the trip details and itinerary. For private and custom trips, you have the option to originate your trip in Boulder Utah or Teasdale Utah. If you have any questions or need help with travel resources please just let us know.
Day 1
Departure Location: Capitol Reef Resort, Torrey, UT
Hiking Mileage: 5-10 miles
Elevation Gain: 750 feet
Elevation Loss: 750 feet
Your llama adventure will leave our llama camp at Capitol Reef Resort. We'll begin by hiking with your llama through a small subsiding basin with a grand view of the red sandstone cliffs towering above. There are many different washes or dried river beds through the red/brown Moenkopi layer littered with a variety of rocks and minerals. Gypsum, a soft sulfate mineral composed of calcium sulfate dihydrate which is widely mined and used as a fertilizer, can be found in either gypsum veins along with river bed or as small independent crystals on the floor. It's as unique experience how we'll twist and wind through washes as we approach the higher elevation.
Over the next several miles gradual ascending the different rock strata, we'll encounter native Utah juniper groves littered with big black basalt boulders (also know as Fremont River Boulders), deep cut canyons, various desert flowers, plants and shrubs. Since we'll be on the western edge of the Waterpocket Fold, we'll have the best view of the Fold with the Henry Mountains lingering in the distance. You'll truly love this first day, with the views, the landscape and llamas in tow.
Day 2
Hiking Mileage: 5-10 miles
Elevation Gain: ± 300 feet
Elevation Loss: ± 600 feet
The trail climbs gradually from our starting point to intersect the Great Western Trail at 1.4 mi. A 4,455 mi historic trail, the GWT was used by pioneers, cattle ranchers, and Mormon Honeymooners to access terrain across Arizona, Utah, Idaho, Wyoming, and Montana. We will travel along the GWT for 2.5 miles before arriving at Deer Creek Lake. Deer Creek is the centerpiece of a remarkably diverse ecosystem of pine and aspen forests, meadows, boulders, and copious water draining from Boulder Mountain. After a delicious picnic lunch catered by our guides, we will continue along the GWT through a meadow with expansive views of Boulder Mountain. A half mile from Deer Creek Lake, note Gresham Spring to the south as you exit the meadow into woods. As the woods open into successive clearings, you will see unnamed lake and descend into the West Deer Creek Drainage. After crossing the creek the trail descends more steeply and follows on the west side down to Chriss Lake, 2.3 miles past the GWT.
Please Note: We always do everything in our power to follow the set itinerary, however it can change occasionally based on temporary park restrictions, campsite availability, weather, road closures, guest ability/injury, and natural events like fires and flooding.