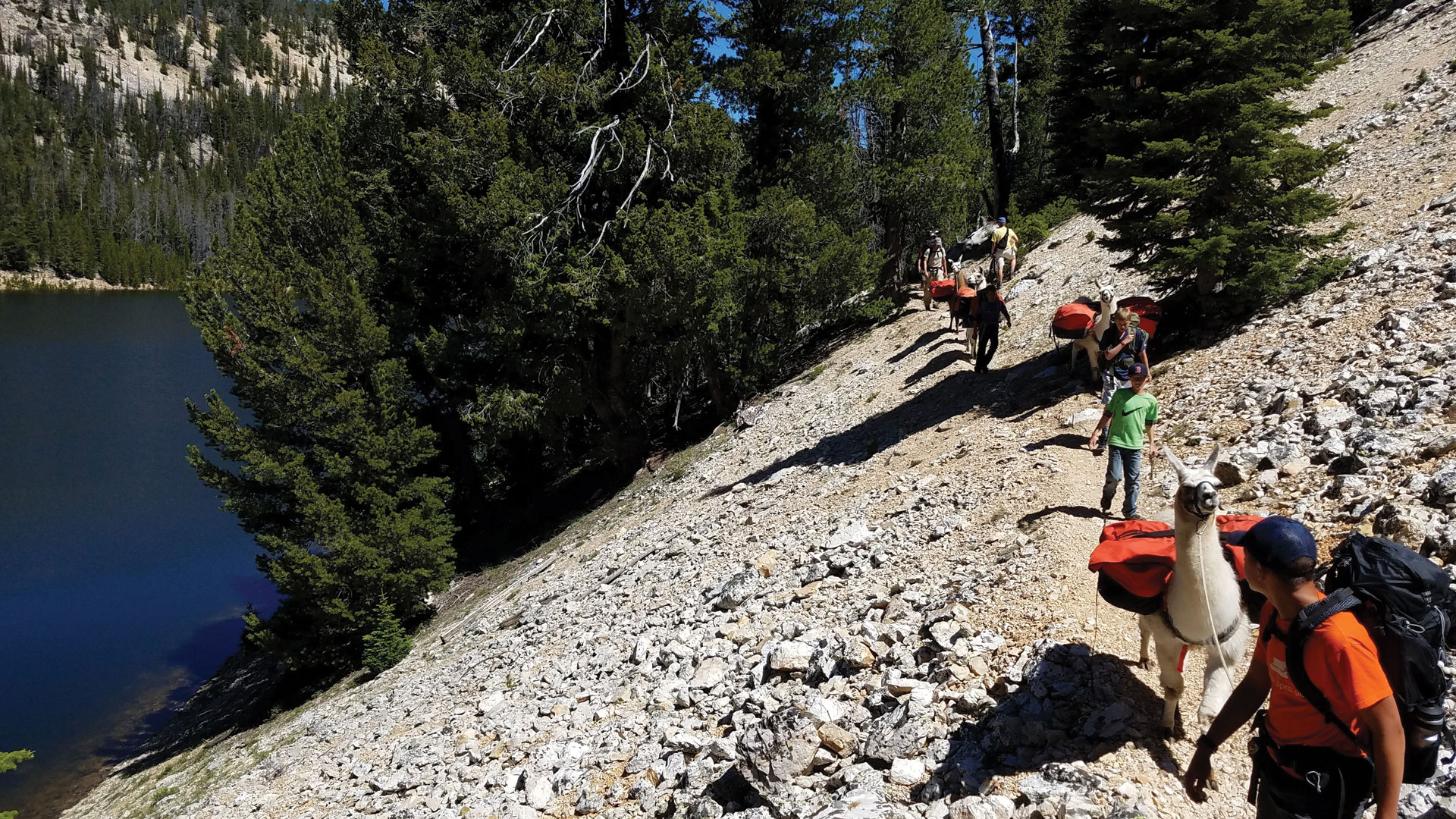 Hike Description
The Boulder Mountain Rim Llama Trek is truly astonishing. We don't know of anywhere that offers views as vast and as world renowned as this. With multiple lakes, great trout fishing, views of the Grand Staircase/Escalante National Monument, Henry Mountains, Capitol Reef National Park and surrounding ranges this trek is quickly attracting a lot of attention across the globe.
This is the wild west trip you have been looking for. From alpine forest to the red rock desert the contrast in the landscape is unparalleled. As you hike the Boulder Mountain Rim with the llamas and gaze at the valleys and lakes beneath the rim it will be a site you will never forget. Enjoy hiking with only a small day pack as our trusty llama buddies carry all our camp gear and food. Make sure to bring a camera along as this is an adventure of a lifetime with many scenic locations that provide great photography opportunities Come join us and our llama buddies for the backpacking trip that is truly one of a kind.
Highlights
Hike ancient routes used by Natives and pioneers alike
See multiple lakes and waterfalls
An abundance of wildlife and fish
Hike off trail into remote areas on Boulder Mountain
Bask in Utah's amazing sun rise over the National Parks
Try a variety of tasty fresh made meals
Explore one of the most historic mountains in Utah
Hike Information
Boulder Rim - Llama Trek
Type: Multi-day Llama Trek Duration: 3 or 4 day Distance: 18-24 mi/28-38 km Difficulty: Level 4 Solitude: Level 5 Location: Torrey, UT. Price Per Person: $1,500 (3 day) / $2,000 (4 day) Season: June 25 - October 31 Reservation Type: Pre-booking only All trips require a two person minimum. If hiking alone, contact us and we will direct you to a group.
Elevation Gain/Loss: 450-2450 Feet
Quality of Trails: Good trails, we may encounter some dead fall and other small obstacles
Physical Requirements: Frequent exercise and good health km
Backpack Weight: 10-20 pounds
Daily Hiking Distance: 4-8 miles
Most Elevation Lost: 2450 feet
Most Elevation Gain: 1280 feet
Additional: We'll be traveling off trails at time. This is so that we can see some of the trip highlights
Distance of Hike: 27-30 mi/ 43 km
What's Included
Industry leading guide that is medically trained, energetic, knowledgeable and friendly
Well trained llama companions to join us on our adventure
First class meals (breakfast, lunch, dinner) and organic trail snacks
Trekking poles to hike with (if desired)
Use of technical backpack
Industry leading tents, sleeping bags and sleeping pad
Bear spray, and bear hanging gear
Emergency equipment and first aid kit including a satellite device
Our effort to fulfill our mission statement to each guest to make the trip informational, exciting, informative and memorable. This is your trip, we will do our best to make it special.
Water filters and purification tablets
What's Not Included
Personal items, rain gear, and clothes
Bug spray, sunscreen, toiletries
Headlamp, Water bottle
Guide gratuity (industry recommendation is 15-20% of trip cost)
Meals: You can expect the highest quality
The remarkable thing about a pack assisted trip is that allows for a diverse variety of fresh and quality foods that will keep you feeling energized and satisfied during your entire excursion. Meals will contain an assortment of proteins, carbohydrates, and fats. Many fresh fruits and veggies will be available for snacks and be used during meals. A selection of snacks (protein bars, trail mix, candy bars, etc.) will be provided for your choosing at the beginning of each day to be eaten at your leisure.
If you have specific dietary needs be sure to let us know as we will accommodate vegan, vegetarian, kosher, non-gluten, pescatarian and other specific diets. Special dietary request may require an additional fee.
Gear We Provide
We provide all group gear which includes the following:
Industry leading backpacks
Kelty Or Sierra Design sleeping bags
Big Agnus sleeping pads
Kelty or Leki trekking poles
Mountain Safety Research cooking stoves
GSI Outdoors cookware
Bear spray canisters and food-hanging gear
Company-issued first-aid kit
Satellite device
What Gear To Bring
Water bottles or bladder, 2 liters total capacity
A lightweight, high quality stuff sac for your clothes and belongings to fit in while in the llama panniers
Lightweight, packable camp pillow.
Contact lenses and glasses if you wear contact lenses please also bring a pair of glasses - your contacts are likely to become dirty and may be difficult to clean
Sunglasses, sunscreen, lip balm
Bug repellent, preferably a product containing at least 25% "DEET" (some people are sensitive to this product)
Toiletries, and a small washcloth in stuff sack (bandana can serve as a washcloth)
Headlamp, spare batteries (preferably an L.E.D. type that works with AA or AAA batteries)
Camera, spare batteries (optional)
Notebook or paperback book, (optional)
Knee braces, if needed
Prescription medicine, please inform your trip leader of any medications you are taking
Vitamins, (optional)
Fly fishing gear, if you want to fish
Money, for tipping your trip leader (optional but appreciated, generally 15-20% of your trip cost based upon the quality of your experience)
What Clothes To Bring
Sturdy Hiking boots, mid weight, lug-soled, above the ankle, waterproof and ideally well broken in. Important note: Buy your boots 1/2 size to 1 size larger than your street shoes to allow for feet swelling and thicker socks
Lightweight tennis shoes or Crocs®, for camp
Hiking socks, one pair for every two days of your trip, plus an extra pair to sleep in. Recommended brands include Bridgedale®, Smartwool®, or similar padded socks (wearing thin liner socks under your hiking socks is highly recommended). No cotton socks!!
Gaiters
Sunhat or baseball cap and bandana
Mosquito head net
Warm hat and gloves, sherpa style hat and light-to-mid weight fleece or wool gloves
Long underwear, one pair of wicking tops and bottoms that are light-to midweight, example materials include capilene, merino wool, polypropylene, etc.
T-shirt or nylon travel shirt
Warm top, mid-weight shirt, sweater or pullover, also wicking material such as merino wool, fleece or polypropylene
Fleece jacket or insulated coat, warm, lightweight and packable fleece jacket or coat insulated with a synthetic material
Nylon pants and shorts, or zip-offs
Bathing suit
Fleece pants (late June, late August and September trips only)
Rainproof jacket and pants - Waterproof/breathable jacket and pants such as Gore-Tex® or coated nylon - with the pants look for side leg zippers or a style that will allow you to remove them without removing your boots
Where do we meet
We will meet you in front of the Capitol Reef Resort Lobby.
2600 E Highway
Torrey, UT 84775
Resort Phone Number: 435-425-3761
Your guide will be there with the llamas waiting for you at a predetermined time.
If you pre-booked in advance your trip your guide will reach out to one week prior to your arrival to confirm your trip and go over any questions you may have. They will also give you a weather update and verify and food allergies you may have. Your guide will request that you meet at 6:00 pm the evening before your trip to go over the trip details and itinerary. For private and custom trips, you have the option to originate your trip in Boulder Utah or Teasdale Utah. If you have any questions or need help with travel resources please just let us know.
Day 1
Shuttle time to Trailhead: 65 minutes
Hiking Distance: 7.5 miles 4-5 hours of hiking
Elevation Gain: 1560 feet
After meeting at our origin location, we will make up and caravan to our trailhead destination. We will unpack the gear and load up the llamas. Before we take off we will take a moment to go over the trip, safety and Leave No Trace details. Once we are all loaded up we will start climbing the rim on an old cattle trail. This trail takes us to the top of the Rim where we get 360-degree views of the Grand Stair case, Capitol Reef National Park. Once we get to the top of the rim we take a short break and enjoy the vista we worked hard to get to. This is one of the few areas that offers such a broad spectrum of landscape from one outlook point. After another 2 miles of trekking along the rim we will stop above the lake and enjoy a hearty lunch prepared by your guide. After we are full and well rested our journey continues just a few miles until we reach our campsite where we will rest and enjoy the solitude of the backcountry together.
Day 2
Hiking Distance: 5 miles 4-6 hours of hiking
Elevation Gain: 895 feet
Don't be in too big of a hurry to wake up, as today is a layover day that starts with a handsome breakfast where no expense was spared. If you are an early riser then don't miss the morning sun as it rises over the valley floor where you can see for miles and miles across the pine trees and desert floor in the valley. The forest canopy helps welcome the morning as the birds fly and sing while the sun greets us at our lakeside camp. Once everyone is full and packed for the day we will leave our tents on the lake shore and head out on an adventurous day hike visiting a few different lakes and highpoints along the rim. If the group would rather stay at the lake we can fish, swim and swap stories for the day. This is your day, we will make it special for you. Lunch will be served around noon, make sure to tie the llamas up away from your lunch site as they might sneak a fresh carrot, lettuce or even a slice of bread from you.
Day 3
Hiking Distance: 7 miles 6-8 hours of hiking
Elevation Loss: 1800 feet
This is a day to remember. This is the day we hike the highline portion of the Boulder Rim. The Highline is a long stretch of trail that overlooks everything below 10,000 feet. The Basalt rock formations allowed for the formation of the Highline trail. This is the breathtaking portion of our trek together. Typical we see a great deal of wildlife in the early morning on our trek. The history of the surrounding mountain ranges and valleys will astonish you. Make sure to ask your guide about the places you see once you get to the Highline trail. If this is your last day with us you get to see the landscape change as we hike off the Boulder Rim Trail and down into the valley. Is really something to see. For those of you staying with us for the 4th you are in for a real treat. After another gourmet and fresh lunch, we will see our second camp site at the shores of Meeks Lake. The llamas are fond of this lake as it has diverse types of vegetation, wildflowers and grasses for them to eat.
Day 4
Shuttle time to Trailhead: 65 minutes
Hiking Distance: 6 miles 4-5 hours of hiking
Elevation Loss: 2200 feet
We venture on trails that get little to no use during the summer season today. At the end of our day we will trek down a stunning mountain pass that few have hiked before. We carved this route out over one full summer season as it was abandoned for many years. Bringing life back to the Boulder Rim is something special to us and we feel honored to be able to share this historic route with you. Adding a 4th day to this trip is not something you will ever regret. One more day in the wild of Utah's famous Boulder Mountain really does the heart and soul good. The fresh air of 10,000 feet with interpretation of the flora and fauna from your guide will rest assured be something you carry with you for years. At the end of our journey we will say our goodbyes and give our llamas hugs and then head back to the Capitol Reef Resort for some much-deserved rest.
Please Note: We always do everything in our power to follow the set itinerary, however it can change occasionally based on temporary park restrictions, campsite availability, weather, road closures, guest ability/injury, and natural events like fires and flooding.