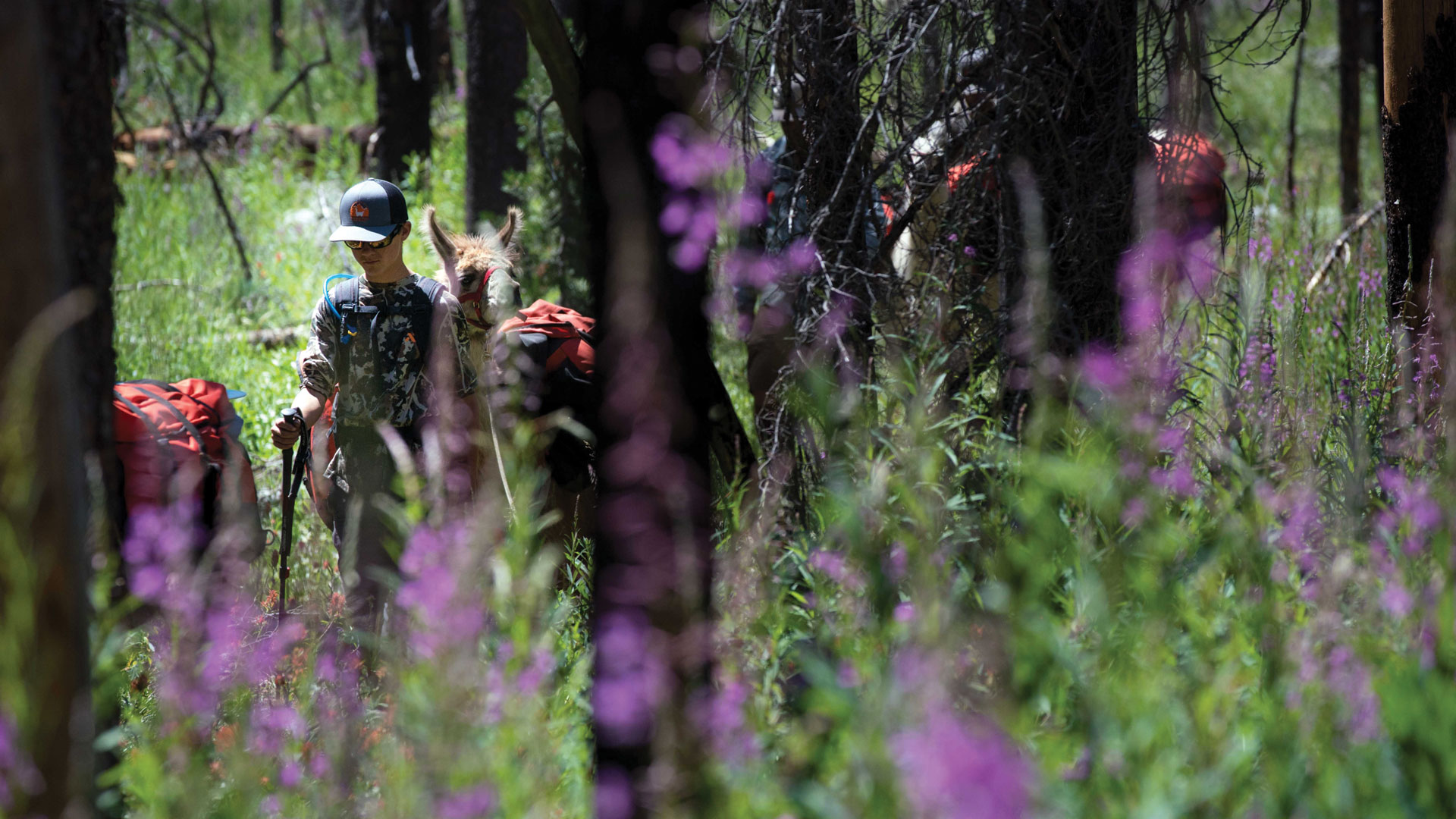 The Great Western Trail - Llama Trek
Hike Description
The Great Western Trail provides guests with an experience that absolutely can't be found anywhere else. Our Llama team enables us to traverse 30 miles of rugged terrain, accessing views of many of South Central Utah's highlights without carrying more than a small daypack. We will ascend the Fish Creek Drainage to Emily Lake for our first camp, a serene lake surrounded by the towering basalt cliffs of the Boulder Rim above. The meadows surrounding Emily Lake are overflowing with waterfalls, streams, and wildflowers. Next, we will ascend to the edge of the Boulder Rim and continue to Rock Creek Point, a prominent rocky projection allowing views of Capitol Reef National Park to the east. Our camp for the night is tucked just behind the Rim. Our third day will include a visit to Chokecherry Point, a historic overlook that allows us incredible views of the Henry Mountains and the southern extent of the Water pocket Fold. The Point is surrounded by gorgeous young aspen forest, a feature that becomes a central highlight with the autumn colors.
From there we will continue along the Rim to the west, taking us deeper into the heart of Boulder Mountain. Our camp for the fourth night is tucked into the west end of Meeks Lake, a scenic lake that drains into Meeks Draw down the Rim below. Day four offers views of Pleasant Creek Falls from the Rim cliffs, we will eventually arrive at our camp below Pleasant Lake at the top of Pleasant Creek Falls. This day will allow ample time for fishing and swimming in the lake and exploration of the impressive basalt formations sculpted by Pleasant Creek. On our fifth day, we will wrap back around the north facing edge of the Boulder Rim showcasing the previous day's hike and Pleasant Creek Valley below. There is an airplane wreckage visible from this point before the trail wraps around Behunin Point, once again allowing sweeping views to the west. Finally, we will make our way to our camp in the center of the impressive draw surrounding Oak Creek Reservoir below. Our last day will allow us time to enjoy the stunning views of Grand Staircase/Escalante and the town of Boulder from Bown's Point.
Highlights
Fully guided, catered, and supported by our pack llama team.
Unique route that showcases the range of beauty that South Central Utah offers, including subalpine meadows, waterfalls, lakes, aspen forests and towering basalt cliffs.
Section of the famous Great Western Trail and adjacent trails. The Great Western Trail is historic cross-country route that spans 4,455 miles through Montana, Wyoming, Idaho, Utah and Arizona
Epic, sweeping views of Capitol Reef National Park, San Rafael Swell, Escalante/ Grand Staircase National Monument, the Henry Mountains, and beyond.
The route totals 27+ mi and provides 6 days of hiking and 5 nights out on the trail.
Hike Information
The Great Western Trail - Llama Trek
Type: Multi-day Llama Trek Duration: 6 day (5 nights) Distance: 27 mi/43 km Difficulty: Solitude: Level 5 Location: Torrey, UT. Price Per Person: $3,000 Season: June 25 - October 31 Reservation Type: Pre-booking only All trips require a two person minimum. If hiking alone, contact us and we will direct you to a group.
Elevation Gain/Loss: 350-2150 Feet
Quality of Trails: Good trails, we may encounter some dead fall and other small obstacles
Physical Requirements: Frequent exercise and good health km
Backpack Weight: 10-20 pounds
Daily Hiking Distance: 5-8 miles
Most Elevation Lost: 2480 feet
Most Elevation Gain: 1880 feet
Additional: We'll be traveling off trails at time. This is so that we can see some of the trip highlights
Distance of Hike: 27-30 mi/ 43 km
What's Included
Industry leading guide that is medically trained, energetic, knowledgeable and friendly
Well trained llama companions to join us on our adventure
First class meals (breakfast, lunch, dinner) and organic trail snacks
Trekking poles to hike with (if desired)
Use of technical backpack
Industry leading tents, sleeping bags and sleeping pad
Bear spray, and bear hanging gear
Emergency equipment and first aid kit including a satellite device
Our effort to fulfill our mission statement to each guest to make the trip informational, exciting, informative and memorable. This is your trip, we will do our best to make it special.
Water filters and purification tablets
What's Not Included
Personal items, rain gear, and clothes
Bug spray, sunscreen, toiletries
Headlamp, Water bottle
Guide gratuity (industry recommendation is 15-20% of trip cost)
Meals
You can expect the highest quality. The remarkable thing about a pack assisted trip is that allows for a diverse variety of fresh and quality foods that will keep you feeling energized and satisfied during your entire excursion. Meals will contain an assortment of proteins, carbohydrates, and fats. Many fresh fruits and veggies will be available for snacks and be used during meals. A selection of snacks (protein bars, trail mix, candy bars, etc.) will be provided for your choosing at the beginning of each day to be eaten at your leisure.
If you have specific dietary needs be sure to let us know as we will accommodate vegan, vegetarian, kosher, non-gluten, pescatarian and other specific diets. Special dietary request may require an additional fee.
Gear We Provide
We provide all group gear which includes the following:
Industry leading backpacks
Kelty Or Sierra Design sleeping bags
Big Agnus sleeping pads
Kelty or Leki trekking poles
Mountain Safety Research cooking stoves
GSI Outdoors cookware
Bear spray canisters and food-hanging gear
Company-issued first-aid kit
Satellite device
What Gear To Bring
Water bottles or bladder, 2 liters total capacity
A lightweight, high quality stuff sac for your clothes and belongings to fit in while in the llama panniers
Lightweight, packable camp pillow.
Contact lenses and glasses if you wear contact lenses please also bring a pair of glasses - your contacts are likely to become dirty and may be difficult to clean
Sunglasses, sunscreen, lip balm
Bug repellent, preferably a product containing at least 25% "DEET" (some people are sensitive to this product)
Toiletries, and a small washcloth in stuff sack (bandana can serve as a washcloth)
Headlamp, spare batteries (preferably an L.E.D. type that works with AA or AAA batteries)
Camera, spare batteries (optional)
Notebook or paperback book, (optional)
Knee braces, if needed
Prescription medicine, please inform your trip leader of any medications you are taking
Vitamins, (optional)
Fly fishing gear, if you want to fish
Money, for tipping your trip leader (optional but appreciated, generally 15-20% of your trip cost based upon the quality of your experience)
What Clothes To Bring
Sturdy Hiking boots, mid weight, lug-soled, above the ankle, waterproof and ideally well broken in. Important note: Buy your boots 1/2 size to 1 size larger than your street shoes to allow for feet swelling and thicker socks
Lightweight tennis shoes or Crocs®, for camp
Hiking socks, one pair for every two days of your trip, plus an extra pair to sleep in. Recommended brands include Bridgedale®, Smartwool®, or similar padded socks (wearing thin liner socks under your hiking socks is highly recommended). No cotton socks!!
Gaiters
Sunhat or baseball cap and bandana
Mosquito head net
Warm hat and gloves, sherpa style hat and light-to-mid weight fleece or wool gloves
Long underwear, one pair of wicking tops and bottoms that are light-to midweight, example materials include capilene, merino wool, polypropylene, etc.
T-shirt or nylon travel shirt
Warm top, mid-weight shirt, sweater or pullover, also wicking material such as merino wool, fleece or polypropylene
Fleece jacket or insulated coat, warm, lightweight and packable fleece jacket or coat insulated with a synthetic material
Nylon pants and shorts, or zip-offs
Bathing suit
Fleece pants (late June, late August and September trips only)
Rainproof jacket and pants - Waterproof/breathable jacket and pants such as Gore-Tex® or coated nylon - with the pants look for side leg zippers or a style that will allow you to remove them without removing your boots
Where do we meet
We will meet you in front of the Capitol Reef Resort Lobby.
2600 E Highway
Torrey, UT 84775
Resort Phone Number: 435-425-3761
Your guide will be there with the llamas waiting for you at a predetermined time.
If you pre-booked in advance your trip your guide will reach out to one week prior to your arrival to confirm your trip and go over any questions you may have. They will also give you a weather update and verify and food allergies you may have. Your guide will request that you meet at 6:00 pm the evening before your trip to go over the trip details and itinerary. For private and custom trips, you have the option to originate your trip in Boulder Utah or Teasdale Utah. If you have any questions or need help with travel resources please just let us know.
Day 1 Fish Creek Trailhead to Emily Lake
Shuttle time to Trailhead: 45 minutes
Hiking Distance: 4 miles 3-4 hours of hiking
Elevation Gain: 1560 feet
We will meet at Capitol Reef Resort, 2600 Hwy 24, Torrey UT 84775 to sign waivers, finalize payment (if needed) and go over any last-minute changes or considerations. Afterwards, we will shuttle llamas and guests will follow us to the trailhead. The trailhead is our last chance to double check gear, go over safety, LNT, meet llamas, and review our itinerary.
After departing the Fish Creek Trailhead, we will ascend through Doug Fir and aspen forest along fire trail. After 2 miles, we will turn left (SW) and continue along fire trail. Exiting a meadow, the route becomes rocky and climbs more steeply through mixed forest and gradually the sound of Fish Creek will become louder and the views more expansive. The Boulder Rim towers above at this point and is a good opportunity to see the following day's route and to become oriented to the immensity and grandeur of the terrain. (Lunch/snack spot)
Soon after the trail descends from the ridgeline, we cross Fish Creek. This is where we head to the GWT intersection. The GWT begins to wind us through dense forest to the meadow and stream immediately below Emily Lake. This is a beautiful break spot to take some pictures before we reach the Lake.
Continuing through lush forest boasting a diversity of plants we will come upon Emily Lake and the adjacent creek. After crossing the creek, we will arrive at our camp on the South side of Emily Lake. Emily lake is the shallowest lake we will encounter but has good grazing for the llamas and a gorgeous meadow at camp. Our camp site is scenic and peaceful with impressive Ponderosa Pines surrounded by the rocky outcrop of the Boulder Rim above.
Day 2 Emily Lake to Rock Creek Point
Hiking Distance: 5 miles 4-6 hours of hiking
Elevation Gain: 895 feet
The trail climbs through talus and spruce. Once we summit above Emily Lake we gain views of Meeks Mesa, Thousand Lake Mountain, and the Teasdale comb. Then we will arrive in a rocky bowl overflowing with a waterfall, verdant wildflowers, and springs. The views here are simply astounding. Next, we will dip back into the dense mixed forest away from the Rim. The trail then ascends gently to Rock Creek Point, an impressive overlook that allows views to the west and south, towering over Rock Creek and giving an excellent perspective on the stunning basalt cliffs that comprise the Rim.
Day 3 Rock Creek Camp to Meeks Lake
Hiking Distance: 7 miles 6-8 hours of hiking
Elevation Gain: 260 feet
This is a day you will never forget. After descending to the creek below, we will cross and head up into the meadow on the opposite side of the Rim. The Trail continues NE through to the end of the meadow and back into the woods. This section of Trail allows quite a few views to the East including the Henry Mountains. Eventually the mixed Douglas Fir forest opens into younger aspen groves that mark our arrival to the Chokecherry Point area. Continuing on past Chokecherry Point, we'll be treated to incredible views and an enjoyable section of trail that meanders back and forth from mixed Fir and Aspens forest to sections of trail along the rocky Rim edge. For the first time, we will be able to see the area of the Boulder Rim near Pleasant Lake that cuts sharply back into the Plateau of Boulder Mountain. We'll want to spend ample time on this day of our trip soaking in the sun and views along this section of cliff. The trail crosses through a few minor draws cutting into the Rim before we arrive upon Meeks Draw, a scenic meadow draining from Meeks Lake. Meeks Lake Camp is located on the SW corner of the lake, which is a scenic fishing and swimming spot. Meeks Draw includes a gorgeous waterfall which is an excellent spot spend the next morning watching the sunrise. Bring your aisle and paint or your camera as this is a morning you will want to remember.
Day 4 Meeks Lake to Pleasant Creek Lake Camp
Hiking Distance: 4 miles 3-4 hours of hiking
Elevation Gain: 490 feet
Today is a very leisurely day to allow us to catch our breath after 3 days of hiking the rim portion of Great Western Trail. This is a day we will most likely see wildlife and beautiful flower blossom filled meadows. After crossing over Meeks Draw and following the cairns to the trail continuing the western side of the creek we will wind back and forth through forests, picturesque meadows, and views of the Pleasant Creek valley below. Given ample rainfall we will also be treated to the incredible waterfall created as Pleasant Creek drains over the Rim. This is one of our favorite camp sites. It is located below Pleasant Lake along Pleasant Creek adjacent to the waterfall. With an early arrival to our camp site we will have plenty of time to enjoy the lake side and majestic views below camp. Additionally, this is a great time to fish, swim and enjoy some first rate hors d' oeuvres on us before we dig in to a much needed freshly prepared meal.
Day 5 Lay Over Day (Pleasant Lake)
Hiking Distance: 4 miles 3-4 hours of hiking
Elevation Gain: 1560 feet
We will enjoy a very relaxing morning after 4 days on the trail. We take our time eating a freshly prepared breakfast on the lake side as the sun rises over the Boulder Mountain Rim and lights up the valley below. Once everyone has taken a few personal moments to bask in the summer sun we will have the option to go on a day hike to nearby waterfalls, lakes and meadows, or simply swim, fish and hang out at the lake.
Day 6 Fish Creek Trailhead to Emily Lake
Shuttle time to Capitol Reef Resort: 45 minutes
Hiking Distance: 8.5 miles 5-7 hours of hiking
Elevation Gain: 250 feet
Elevation Loss: 1260 feet
Our final hike back to Sunflower Flat takes us through dense forest at the Rim's edge, eventually arriving at Bown's Point. Bown's Point provides a stunning exposure of Grand Staircase/Escalante National Monument, Navajo Mountain, Paunsaugunt Plateau, and the beautiful irrigated fields sandwiched by Navajo sandstone bluffs that comprises the town of Boulder, UT. After admiring the vista we will descend down an old cattle trail that switchbacks through forests of Indian Paintbrush, Raspberry, Elderberry, and Aspen. The trail is narrow and dug into the rocky boulder field it meanders down. Eventually we enter a tunnel of aspens in a recently regrown burn. Continuing on we finally arrive at Sunflower flat, a wide open grazing meadow with views of Mt. Ellen peeking over the contour of Boulder Mountain. From here we will continue down the road to our parking area adjacent to Hwy 112. This is where we part ways but not after sharing some stories, pictures and our last trail beverage and snack.
Please Note: We always do everything in our power to follow the set itinerary, however it can change occasionally based on temporary park restrictions, campsite availability, weather, road closures, guest ability/injury, and natural events like fires and flooding.