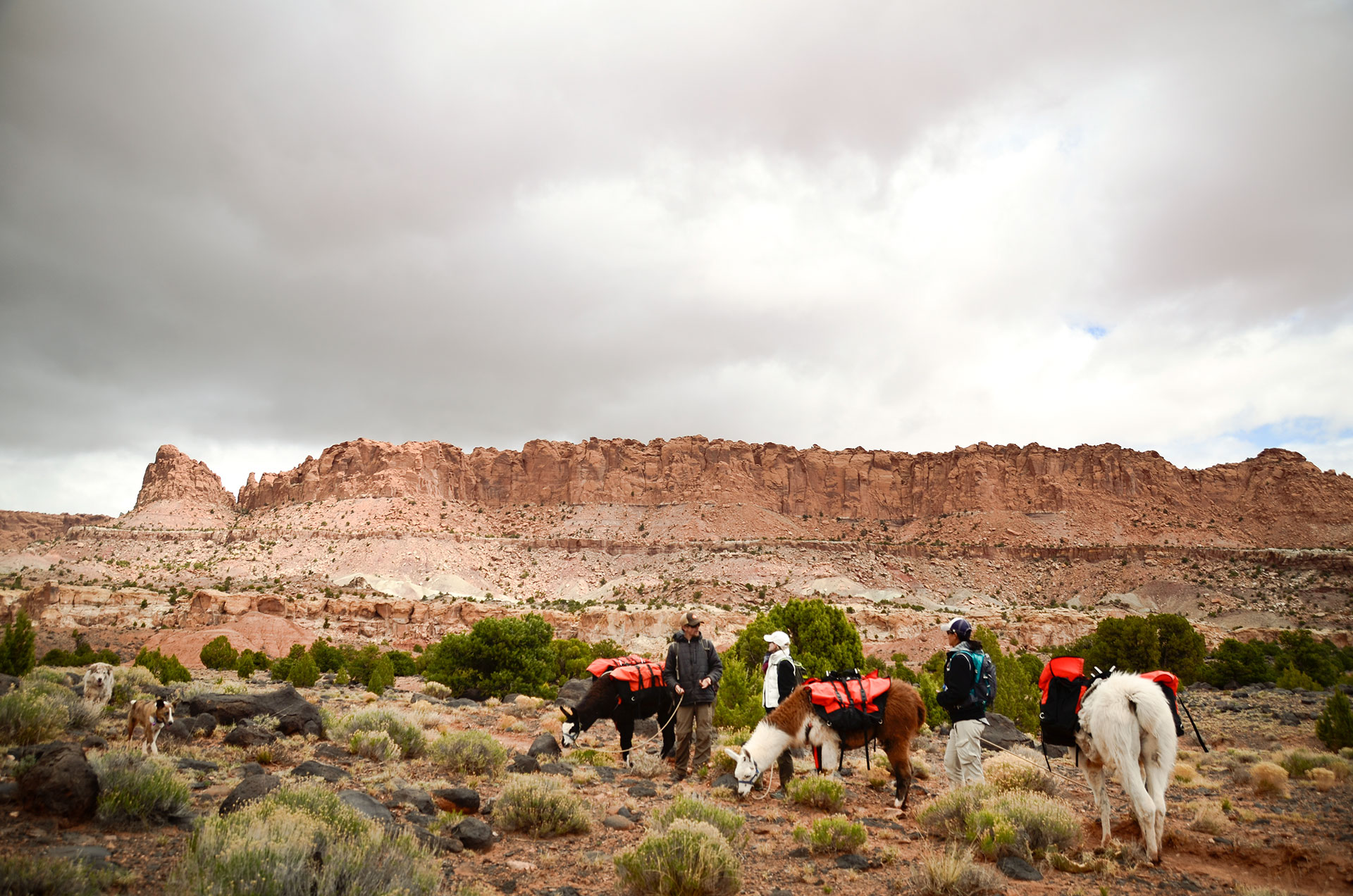 The Sight Seer - (8 Hour)
Highlights
Firsthand look at an entire petrified forest
Exclusive access to the western edge of the Water Pocket Fold of Capitol Reef National Park.
Great introduction to hiking with well-trained llamas.
Great photography opportunities.
Experience the unique geological rock layers and walk in an old river bed.
Discover many unique rocks.
Explore archeological artifacts. Ask our guides!
Walk through the Upper Sulphur Creek wash/river bed
Explore Gypsum veins or strikes and look for crystals. (Please leave what you find)
An in-depth interpretation of the geology, flora, and fauna of the unique landscape.
The best of backcountry cuisine in a wilderness picnic setting. All our meals are prepared specific to you and your group.
Hike Description
The Capitol Reef area offers many hiking options for serious backpackers, hikers, walkers, and those who enjoy exploring and relaxing in remote areas. It's even better to explore and hike with llamas. This area boasts an incredible diverse landscape with broad, sweeping vistas, layer upon layer of various rock formations and cliffs, limitless sky, dried up river beds and more. The scenery is just spectacular!
All of our llama adventure day trips leave from our llama corral located at Capitol Reef Resort in Torrey, UT. Our guests get exclusive access to the western escarpment of the Water Pocket Fold of Capitol Reef National Park. This exclusive access means you'll have the entire place to yourself. Very few people get the opportunity to explore the headwaters of Sulphur Creek, Red Bluff Canyon, or the Amphitheater below Cooks Mesa and Meeks Mesa - all right from front door of Capital Reef Resort.
Our guides will tailor your llama adventure based on your timeframe, level of ability and interest. (On average, we walk or hike 1 - 2+ miles per hour). This means you could join us for a Full Day Llama Adventure, hike, explore, relax, take photos, eat a gourmet meal and only hike 3 miles total. Or the Full Day Adventure could be 6-12 miles. It's your day and your choice, we will do everything we can to cater to you and make this day special.
Your guide can give you a one-on-one landscape interpretation of the unique geology, flora, fauna, and archeological in the area, as well as, answer any questions about your llama companion. Our llamas can carry your day hiking gear, water, food and more.
Come hike with llamas into The Petrified Forest, Red Bluff Canyon, over to the Sulphur Creek Overlook or deep into the Amphitheater below Cooks and Meeks Mesa.
Solitude
We may see one or two other people off in the distance. Chances are we will not see a single other person on this trip. Due to our exclusive access few people get to see this portion of the Western Water Pocket Fold.
Hike Information
Elevation Gain/Loss:300-1550 Feet Quality of Trail: Very Well Maintained Physical Requirements: Frequent exercise and good health Duration of Trip:8 Hour (sometimes a few minutes longer) Distance of Hike: 3-10mi / 4.82-16.09km All trips require a two person minimum. If hiking alone, contact us and we will direct you to a group.
Price
1 Person: $599.00
2 Person: $399.00/person
3 Person: $350.00/person
4-7 Person: $299.00/person
8+ Person: Call for pricing

*Price does not include gratuity for your guide or sales tax
Industry leading guide that is medically trained, energetic, knowledgeable and friendly
Well trained llama companions to join us on our hike
Trekking poles to hike with (if desired)
Use of technical day backpack
Our effort to fulfill our mission statement to each guest to make the trip informational, exciting, informative and memorable. This is your day, we will do our best to make it special.
Photography opportunities
Chairs and table for our backcountry lunch
We will meet you in front of the Capitol Reef Resort Lobby.
2600 E Highway Torrey, UT 84775 Resort Phone Number: 435-425-3761
Your guide will be there with the llamas waiting for you at a predetermined time.
If you pre-booked in advance your trip your guide will reach out to one week prior to your arrival to confirm your trip and go over any questions you may have. They will also give you a weather update and verify and food allergies you may have.
Full day hikes start at 8:00 am unless you request otherwise.
Mandatory Items:
Hiking shoe or hiking boots (closed toe is best)
Water bottle (1+ liter capacity)
Sunscreen or sunhat
Waterproof poncho or rain jacket
Warm hat and gloves (Early Spring, Fall and Winter)
Warm wool or fleece top and bottom (Early Spring, Fall, and Winter)
Suggested items:
Sunglasses
Camera
Gratuity for your Guide
Cold or frozen bottle of water or Gatorade
Ankle or knee brace (if needed)