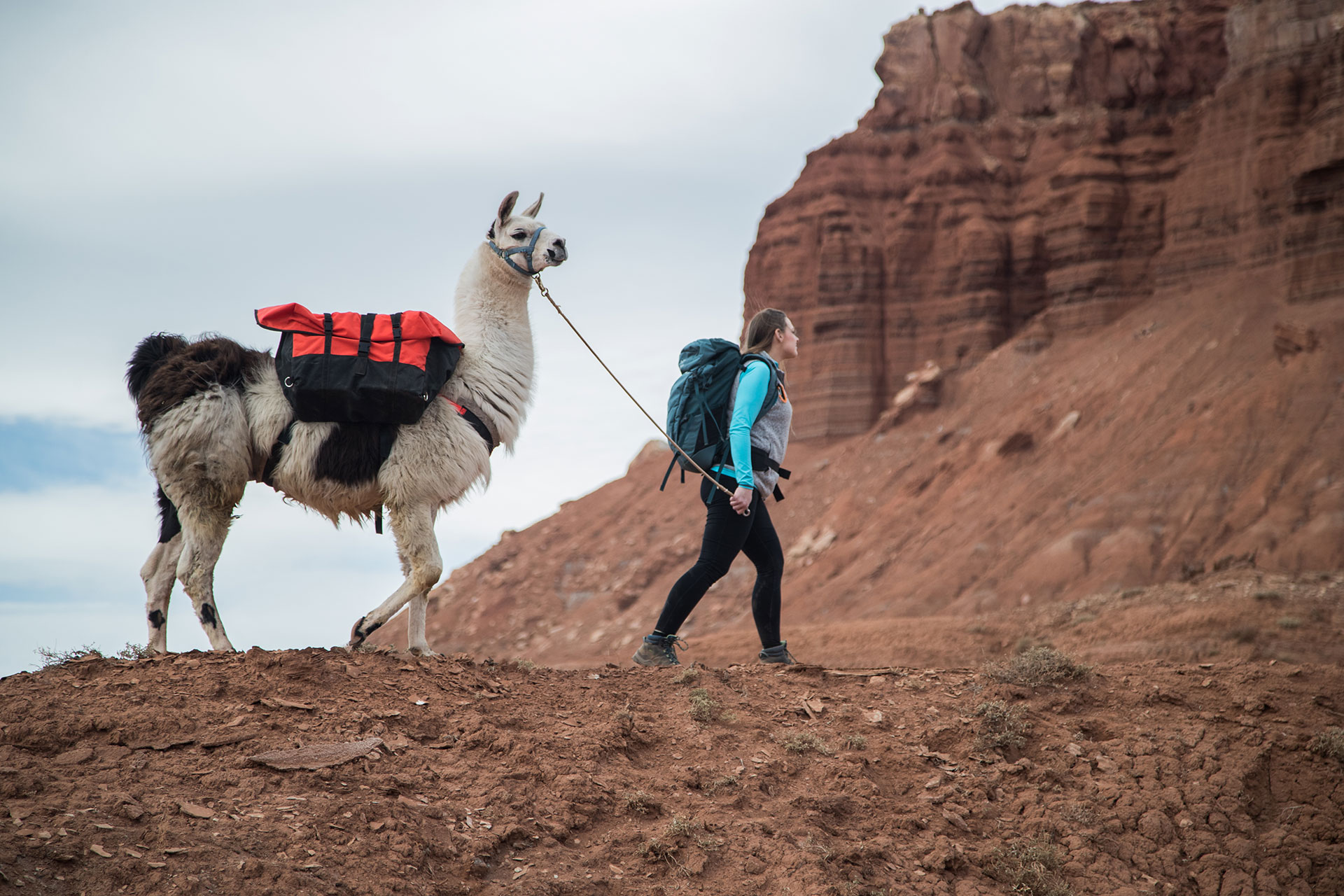 Hike Description
If you love adventure and the outdoors then this llama supported hike is something you will really enjoy while vising Utah's National Parks. This hike is ideal for families and those with a time constraint. There are few places in the Capitol Reef area that offer so many different historic iconic vistas in such a short hiking distance. Your guide will give you very detailed information about the mountains, archeology, and geology of the area as well as tell some trail stories and share history of the ancient desert landscape.
You will also enjoy refreshing drinks provided at the half way point. This is a loop hike and our best seller. This trip is rated for all ages and abilities. We have exclusive access to this area and due to the landscape we are able to choose from many different trails to fit your abilities and desires. Our guides do all they can to make your hike with us special. If you are after some top-notch photographs then make sure to bring your camera as this is a rare opportunity to capture some of Utah's best.
Solitude
We may see one or two other people off in the distance. Chances are we will not see a single other person on this trip. Due to our exclusive access few people get to see this portion of the Western Water Pocket Fold.
Hike Information
Elevation Gain/Loss: 25-400 Feet Quality of Trail: Very Well Maintained Physical Requirements: Frequent exercise and good health Duration of Trip:2 Hour (sometimes a few minutes longer) Distance of Hike: 1-4mi / 1.6-6.4km All trips require a two person minimum. If hiking alone, contact us and we will direct you to a group.
Price
$99/Person
*Price does not include gratuity for your guide or sales tax
Industry leading guide that is medically trained, energetic, knowledgeable and friendly
Well trained llama companions to join us on our hike
Trekking poles to hike with (if desired)
Our effort to fulfill our mission statement to each guest to make the trip informational, exciting, informative and memorable. This is your day, we will do our best to make it special.
Photography opportunities
We will meet you in front of the Capitol Reef Resort Lobby.
2600 E Highway Torrey, UT 84775 Resort Phone Number: 435-425-3761
Your guide will be there with the llamas waiting for you at a predetermined time.
If you pre-booked in advance your trip your guide will reach out to one week prior to your arrival to confirm your trip and go over any questions you may have. They will also give you a weather update and verify and food allergies you may have.
Mandatory Items:
Hiking shoe or hiking boots (closed toe is best)
Water bottle (1+ liter capacity)
Sunscreen or sunhat
Waterproof poncho or rain jacket
Warm hat and gloves (Early Spring, Fall and Winter)
Warm wool or fleece top and bottom (Early Spring, Fall, and Winter)
Suggested items:
Sunglasses
Camera
Gratuity for your Guide
Cold or frozen bottle of water or Gatorade
Ankle or knee brace (if needed)