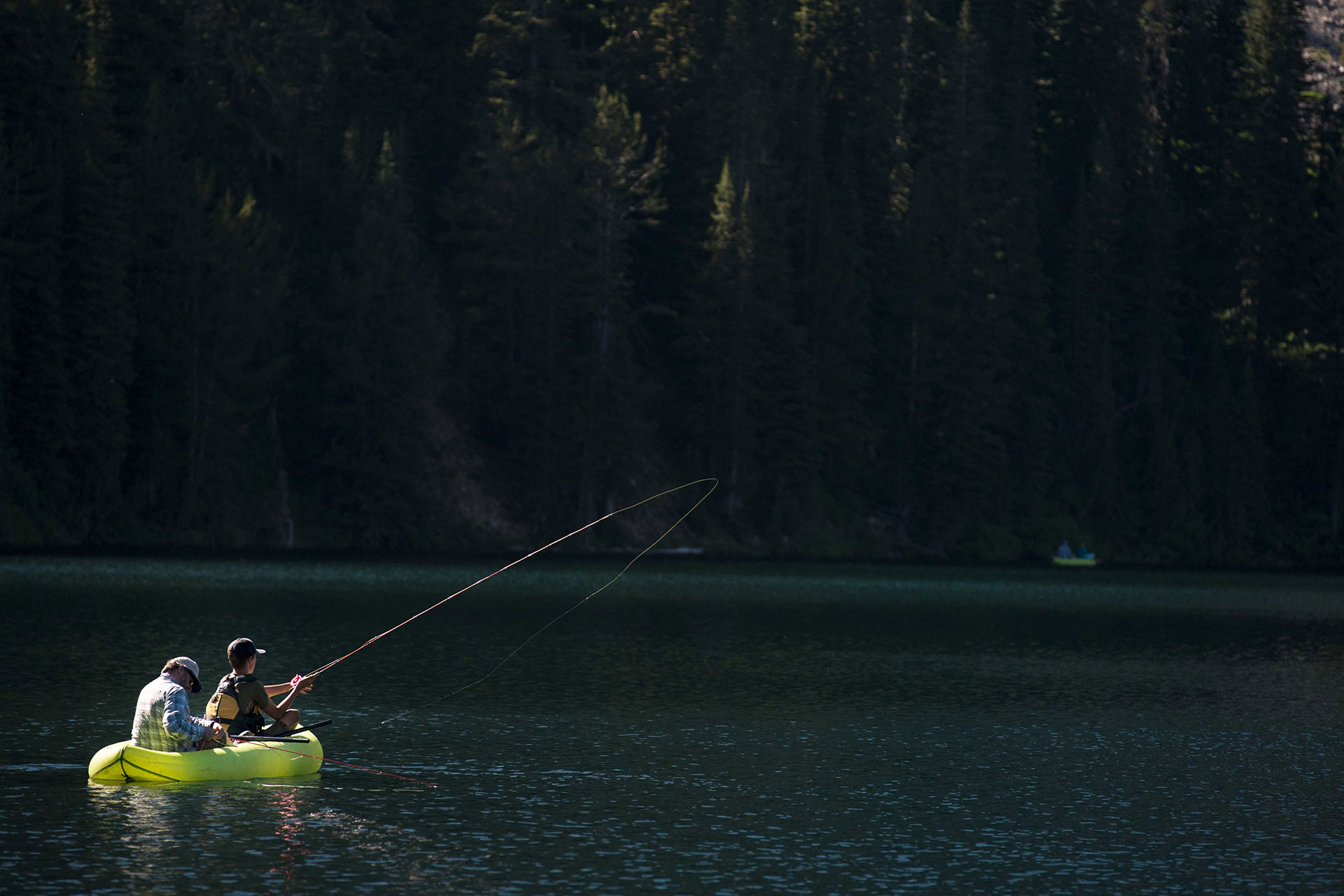 The Vacationer - (8 Hour)
Highlights
Great Fishing (we can provide the gear)
Tremendous photography opportunities
Lake swimming.
Gourmet lunch catered for you (picnic style)
Top of the line backpacks and gear for each guest
Hard working llama companions to carry our loads
Meadows, Wildflowers and various wildlife viewing opportunities
Walk through the Upper Sulphur Creek wash/river bed
Hike Description
This is the alpine lake setting most folks truly enjoy. When you think of a vacation you often think of spending time around a lake or river. Our llama companions will carry a gourmet meal prepared for you and your group based on your dietary preferences. We will hike though the meadows and pine tree forest canopy for just a few miles until we reach our lake destination. There are two lakes we get to enjoy from where we will rest and eat lunch. These lakes are full of trout and on occasion we will even find some tiger trout. If you want to cool off in the hot months of the summer this is an ideal trip. Our guides will tell you of the rich pioneer heritage found in this mountain range along with stories of past trips and interpretation of the vast alpine landscape. You might even discover an arrowhead on the upper rim of our hike. After our lunch, we can go on a loop hike back to the vehicles or continue up the rim for a longer hike. With many routes and trail options you really don't see the same thing twice. We like to mix it up and show our guest all there is to offer is this rare alpine setting. We also see elk, deer and moose on this trip on a regular basis. Additionally, the meadows and basins are full of blooming wildflowers in the early summer.
This trip has become one of our best sellers. With a unique rim lake setting and extreme solitude you fill like it is your own private lake. It is no surprise that guest book this same trip with us year after year. This trip won our 2017 guides choice award. Come see why!
Solitude
We will very rarely see anyone on this hike. This has a high solitude rating.
Hike Information
Elevation Gain/Loss:300-2150 Feet Quality of Trail: Very Well Maintained Physical Requirements: Frequent exercise and good health Duration of Trip:8 Hour (sometimes a few minutes longer) Distance of Hike: 3-10mi / 4.82-16.09km All trips require a two person minimum. If hiking alone, contact us and we will direct you to a group.
Price
1 Person: $599.00
2 Person: $399.00/person
3 Person: $350.00/person
4-7 Person: $299.00/person
8+ Person: Call for pricing

*Price does not include gratuity for your guide or sales tax
Industry leading guide that is medically trained, energetic, knowledgeable and friendly
Well trained llama companions to join us on our hike
Trekking poles to hike with (if desired)
Use of technical day backpack
Our effort to fulfill our mission statement to each guest to make the trip informational, exciting, informative and memorable. This is your day, we will do our best to make it special.
Photography opportunities
Chairs and table for our backcountry lunch
We will meet you in front of the Capitol Reef Resort Lobby.
2600 E Highway Torrey, UT 84775 Resort Phone Number: 435-425-3761
Full day hikes start at 8:00 am unless you request otherwise.
Your guide will be there with the llamas waiting for you at a predetermined time.
If you pre-booked in advance your trip your guide will reach out to one week prior to your arrival to confirm your trip and go over any questions you may have. They will also give you a weather update and verify and food allergies you may have.
We will meet at designated time at the Capitol Reef Resort, and then we will caravan to the trail-head where our trip will begin. Your guide will transport the gear and llamas. Guest will provide their own transportation unless otherwise requested.
Mandatory Items:
Hiking shoe or hiking boots (closed toe is best)
Water bottle (1+ liter capacity)
Sunscreen or sunhat
Waterproof poncho or rain jacket
Warm hat and gloves (Early Spring, Fall and Winter)
Warm wool or fleece top and bottom (Early Spring, Fall, and Winter)
Suggested items:
Sunglasses
Camera
Gratuity for your Guide
Cold or frozen bottle of water or Gatorade
Ankle or knee brace (if needed)