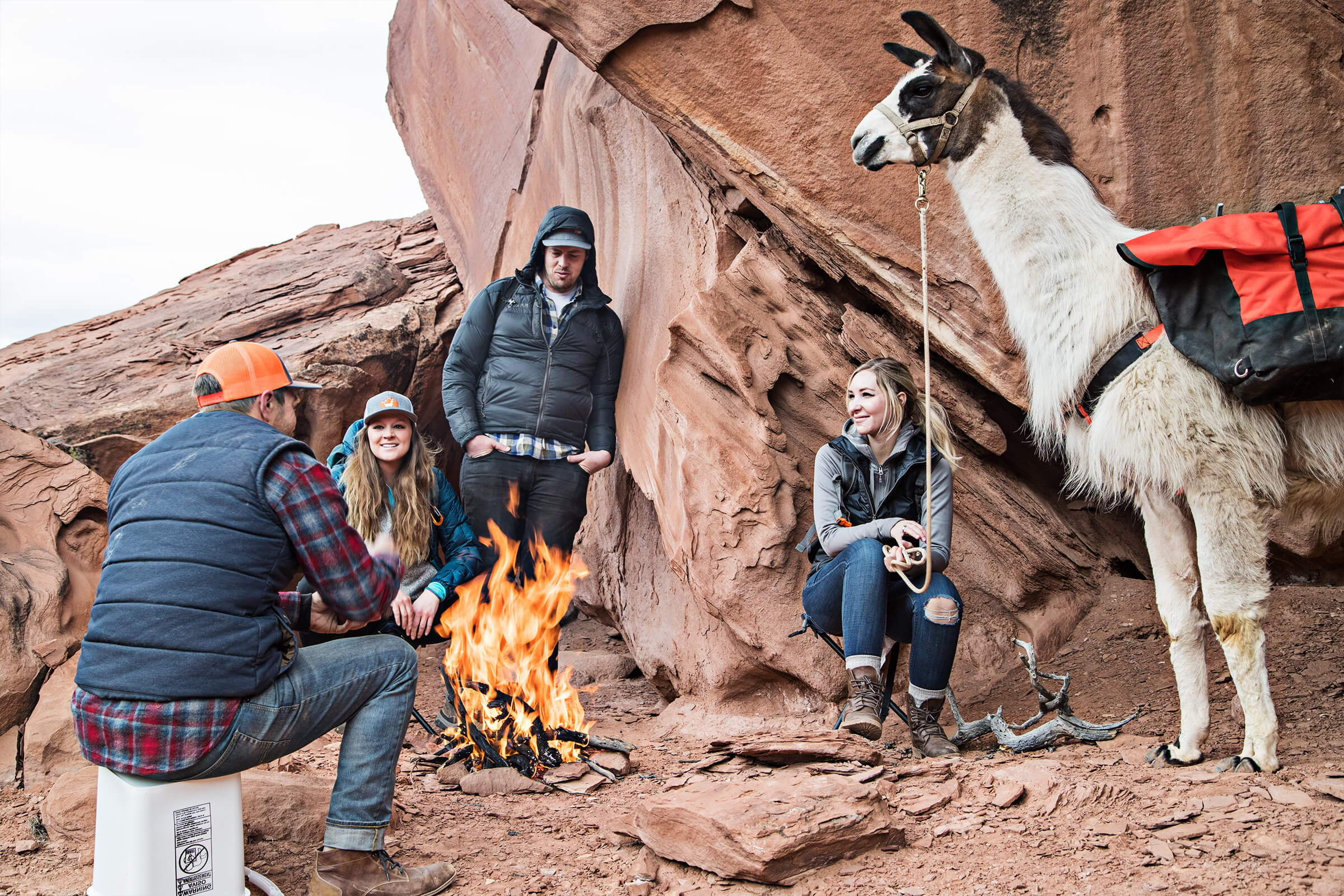 GO FARTHER, STAY LONGER, AND HIKE HARDER!
Pack Animals:
Pack animals have been helping humans for thousands of years carry heavy payloads from one destination to another. Here in North America the most common pack animals are undoubtedly horses & mules. They have become a staple for most hunters, ranchers and outdoorsmen that live near the Rocky Mountains.
Chances are if you have, hiked, camped or hunted the backcountry in the western states you have most certainly had some kind of interaction with horses or mules. When it comes to llamas not many sportsmen can say they have crossed paths with one and if you have; you were probably too shocked to remember much about the experience.
Why Llamas:
Llamas are often called the Beast of Burden. In ancient times llamas were key to the success and survival of the Inca culture. Today we use llamas to carry the weight we cannot carry ourselves. We love the backcountry of the Western United States and our llamas carry our camp, food, water and gear to each destination we seek. When you pack with trail hardened pack llamas for the first time you begin to understand why people have been packing with them for centuries, it's just in in their DNA.
Llamas balance 65-70% of their body weight on their front legs. Their feet have a leather pad similar to that of a dog, and a split toe that allows for larger surface area and gripping ability. When it comes to rocky, steep, and tough to navigate terrain llamas excel where some pack stock might fall short. They are smaller than horses and thus they eat and drink much less in comparison.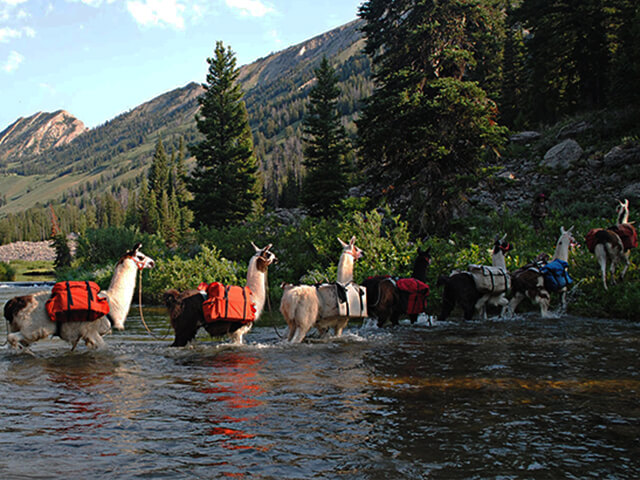 Experienced Llamas:
Having experienced llamas that are bred for packing can make all the difference in the world. Good pack llamas are true athletes and can perform at high levels when conditioned properly. Each of our llamas typically works 90-100 days each year in the backcountry carrying 70-80 pounds. Our best packers weigh 330-420 pounds when in packing shape. Llamas have all the right makings to be sure footed creatures and well balanced with heavy packs. They have long necks that they use as a counter balance which aids when they are carrying a heavy payload.
Llamas cannot go as fast as horses; you should expect your llamas to keep up with your walking pace as they walk behind you with a lead rope. It is a good practice to give your llamas 20-30 seconds of rest for every 30-40 feet of elevation gain. It is important to note that 30-40 feet of elevation gain might take place over half a mile or 100 yards. For example in November of 2013 we were hiking in Montana, we hiked 10.25 miles and climbed 2283 feet. This trek took us 5.5 hours from the time we left the trail head until the time we arrived at our camp spot for the night. In the first 7 miles we only climbed 500 feet of elevation. The additional 1783 feet of elevation occurred over 4.25 miles.
We have come to learn that not all llamas are pack llamas. There are very few pack llamas in North America that are bred, raised, trained, and conditioned for endurance packing. Living in the Rocky Mountains has given us a unique opportunity to test, prove and select top end pack llamas for our outfitting business. We have found that Classic Llamas also referred to as CCARA, The Working Llama or Short Wool Llamas have the best stamina, muscling/strength, and overall pack ability.
Other Services We Offer
Llama Rentals- we provide everything you need. See rent llamas for more information
Llama Clinics- learn how to pack with llamas and see if it is for you. See llama clinics
Llama Supported Hiking Adventures
Llama Sales- young packers, experienced packers, and select breeding stock
Llama Equipment- we make and sell our own llama saddles, blankets, rigging, panniers, & leads
If you have questions about renting, buying or packing with llamas feel free to contact us via email, phone or Instagram.
"My son and I went on a two hour trek with the llamas at Capital Reef Resort. It was fantastic! My 8 year old son loved bonding with his llama. The guides were knowledgeable and fun. I highly recommend this adventure. Also, I want to mention how awesome the owners are. We bought llama hats that we then lost in a scary rafting incident in the Colorado River. I called the owner to order a new hat. My son loved his hat and wanted to remember the llama adventure. The owner offered to send another hat free of charge. We really appreciated this lovely and generous gesture."
Thanks, Andrea R.